This weekend, Chris had a seven page paper to write for school. Most of his Saturday was spent doing research and putting it all together, so I knew I wouldn't get any husband help on any projects. So I picked a couple small things that I knew I could do on my own.
So last September, we went to all of the antique/thrift stores we could find in Napa that were listed in Yelp. One antique store had a back room labeled "clearance" and I found this pretty little thing in a cardboard box full of old dishes. I didn't know what it was at the time, but I thought it looked pretty neat and I liked the design with all the little holes. I wasn't sure what I'd do with it but it was partially rusty so I bought it. :P When we got home, I googled the markings I found inside and found out it's actually a vintage casserole dish carrier possibly from the 1930s. I really hope it's from the 1930's and that it belonged to some lady who tried to make her family meals all Martha Stewart fancy during the great depression. lol (Did you like how my mind wandered off like that? That's the kind of silly crap I think about when I buy my rusty collectibles)
So I finally had a plan for what I wanted to do with it. Since, it didn't come with a casserole dish of any kind, I decided to make a wooden base for it. I got some of the scrap wood left from the
wooden pig
I made and used the jigsaw to cut out a little circle that was roughly the circumference of the carrier. Afterwards I stained it a dark walnut.
Now the pretty vintage casserole carrier has a new life purpose, serving as a tray for the olive oil, salt and pepper. :P
While I was making a mess outside, I decided I might as well make a cool mossy letter "B" to add more green to the kitchen. (You can never have too much green!)
How to make a Mossy Monogram!
1. Draw out the letter of your choice. If you can't draw, I suggest printing out a very large letter in a font you like.
2. Cut the shape out in wood with a jigsaw. It doesn't have to be perfect since it's going to be covered in moss, but it's fairly easy to go back around the edges with the tool and shave off the oopsies if needed. If you have a difficult letter with a hole in the middle,you can just use a drill to make a starter point hole for the jigsaw blade.
Again, if you haven't already bought a jigsaw, I suggest buying one for less than a nice pair of jeans. Also, they are so easy and not scary to use, a sewing machine is more difficult to master.
3. Cut and Glue Moss to your letter.
I used hot glue to attach the moss to the wood.
*Easier Options* I've seen some people make the monogram out of those paper/cardboard letters you can find at craft stores. So if you don't want to cut wood, that would be a safe option. I just made one out of wood because I haven't seen any cardboard ones that are really big or in the font I like. Also, I wanted something heavier in case I made it a wreath so it wouldn't blow around outside.
Ta da! I put a pretty bow on it and made it wreath like. :)
Items used and mentioned for this project:
Many Thanks to the Lovely Bloggers that featured this post!: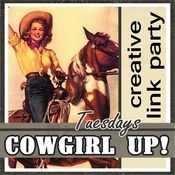 You can find more creative ideas at these links: